Current situation
Gathering data, managing them and turn them into insights could be pretty challenging sometimes. It's for sure, an everyday bet, for businesses in sectors such as Security, Aviation, Facilities management, Accommodation, Hospitality plus many more.
Common problems that a manager can face during his work routine, in terms of data gathering and editing could be:
 Vast amount of data
 Difficulties while editing, analyzing and sharing
 It's easy to miss data by mistake
 Data storage is still a complexity (how?, where?, will they be lost?)
What you can achieve
Below you'll find us emphasizing in our best seller custom report, the Advanced Schedule Completion report. Especially in case you're a strong fan of our Scheduling tool, you'll love this.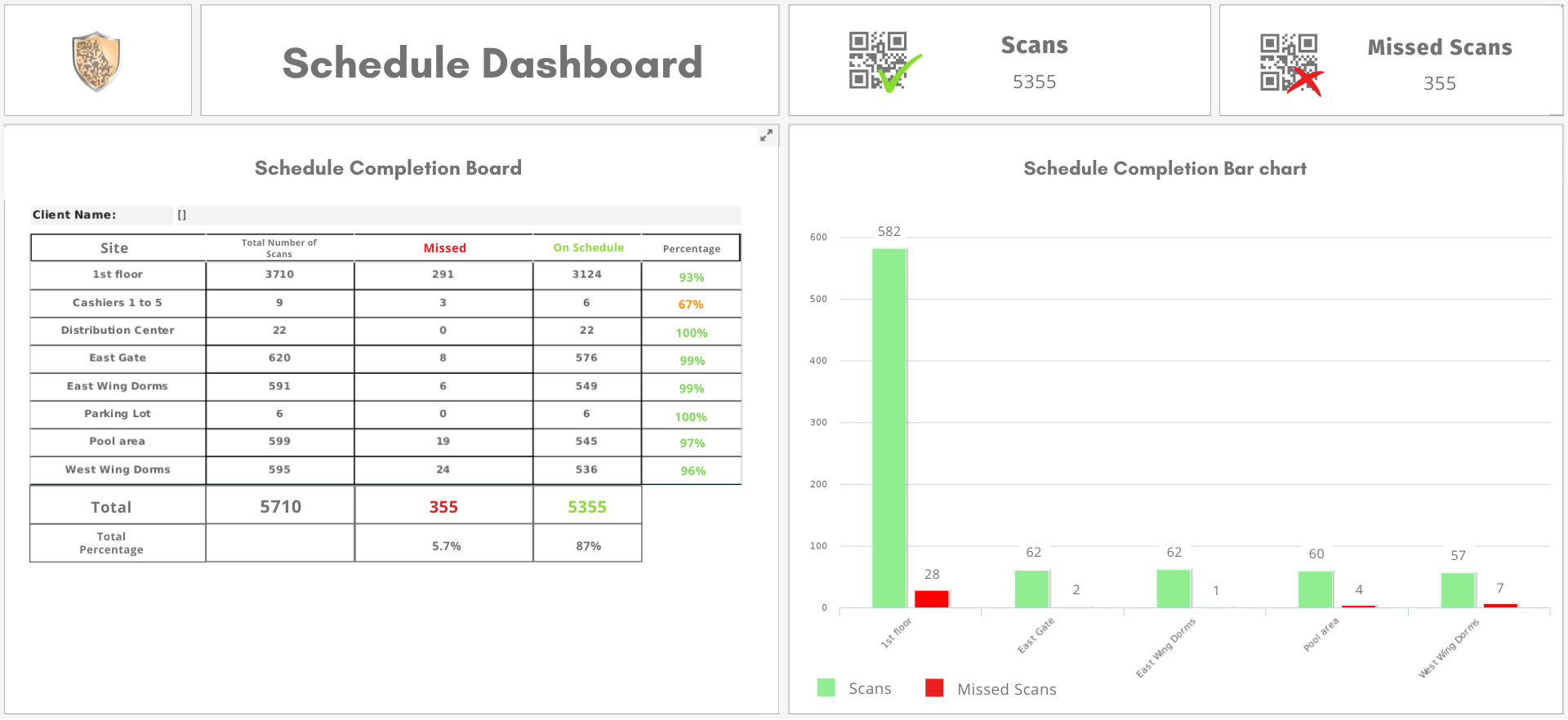 An image for a thousand words but still find some details below:
  It's a table including information about the Schedules completion:
 Total number of Scans should be performed per Site or Schedule
 Total number of successful Scans per Site or Schedule
 Total number of missed Scans per Site or Schedule
 Completion percentage per Site or Schedule
 Total numbers of all the above
 Total completion percentage
  You're always up to date as you can search and locate data, generated dynamically, depending on the time period you select.
  You can be fully transparent to your colleagues, supervisors and clients, and gain peace of mind, as you can set the report to be automatically send to multiple recipients.
Tips to thrive:
1

  Digitalize your employees' paths; forget about pen & paper

2

  Take advantage of the software's cloud nature and perform improvements to your everyday operations

3

  Inform your employees automatically on what they have to do and get informed back regarding their progress

4

  Combine your automated routes with more details, making the most out of our advanced reporting tools

5

  Always have in mind that you can taste the software's efficiency by getting fully engaged and bringing it to its full potential
A tip for the end: Go through the Schedules management guide to evaluate and improve your existing schedules or create new ones, meeting your exact needs to cover pain points.
For a discussion feel free to contact us at success@qrpatrol.com or use our live chat (during working hours from 09:00 AM to 05:00 PM Greece time).
Our experience can be a great combination with your creativity.
Written by Michael Parmazis