All started when I was taking down some notes, hearing your feedback and transferring all the necessary information to my team and now, you can include Mobile forms submissions into tailor made reports.
Have in mind that, you can include every entity and value you're using during your routine, into custom reports, in different visualized formats such as:
 Tables
 Crosstabs
 Pie charts
 Bar charts
 Heat maps plus more
Your current situation
Gathering data can be an everyday effort for your business. Take a breath, a small step back and think of how you're doing that at the moment. Are there any ways for you to improve it? Maybe even automate it…
Using paper reports or uncountable excel files is causing some issues to your work's productivity and efficiency, being the exact opposite to organize, program and save time.
1

  They are hard to edit, analyze and share.

2

  Most of the editing, importing and exporting is being performed manually.

3

  It is very easy to miss data and files and make mistakes.

4

  They are not famous for their user – friendly aspect.

5

  Even after the editing part, data storage is another unpaved way.
What you can do
Applying QR-Patrol software in 89 different countries and multiple sectors has shown us that inspections is tending to be an everyday but yet crucial point of your business. Employees and organizations, small, big, bigger, have to deal with data inputs, on a daily basis and spend almost their whole day on bringing them to readable formats.
As referred previously, you may find some ideas for efficient, tested custom reports including different kinds of entities here. Also, I'm sure this will boost your creativity and we can start a discussion for something that could match your exact requirements.
Below, you'll find some tailor made reports, emphasizing on the Mobile forms, which are digital, fully customizable questionnaires – sheets composing the perfect inspection tool. Briefly what you can do is:
 Create as many forms you need including multiple types of questions such as texts, checkboxes, radio buttons, headers plus more.
 These forms can be used as the main inspection tool during your routine as you'll receive the answers in real time.
 To gather all the answers at one place, you can start using forms related custom reports, along with other information such as who reported the information, what time plus more.
Mobile forms data custom reports
Template 1 - Building security inspection
An image for a thousand words, so this is the right time to present a sample report including questions, instructions and answers, all gathered at one place and being delivered automatically to your email, as per your requirements.
The report includes:
 Your Company info
 Your Company logo
 Questions – Instructions
 Answers – Measurements – Checks
 Employee who filled in and reported the form
 Time & date the form was reported (real time)
 The exact location where the form was answered and reported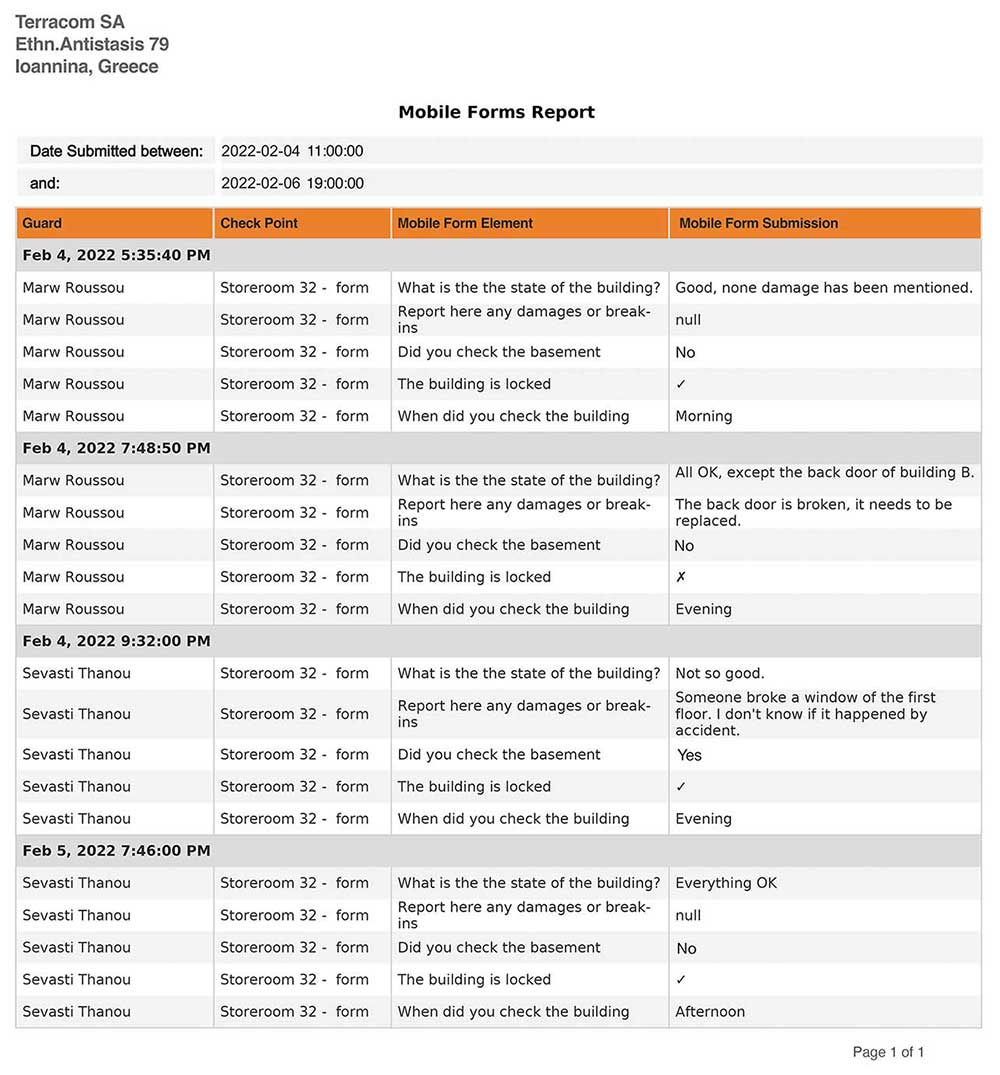 Template 2 – Measurements – Inspections
Taking into consideration some inspection cases already being covered by QR-Patrol software, the next template came up including forms, the supervisors are using during their equipment inspections.
 The manager, user of the web app, creates the form including as many entities as he/she needs for the inspections to be covered completely.
 This form will automatically appear on the supervisors' end so as for them to know what instructions to follow.
 The forms can be consisting of multiple types of elements, such as text inputs, checkboxes, drop down menus, multiple choices etc.
 Once the form is filled in, then it will be uploaded to the web portal in real tim
 The system, through business intelligence, can gather all this information automatically at one place, generating a custom report to be delivered automatically to the manager.
 The manager has all the information coming from the inspection at one place to check and evaluate, consisting a great tool for decision making.
The Measurements – Inspections report includes:
1

  Date & time

2

  Checkboxes for the equipment's' checks

3

  Text inputs for water and gas measurements

4

  4Additional notes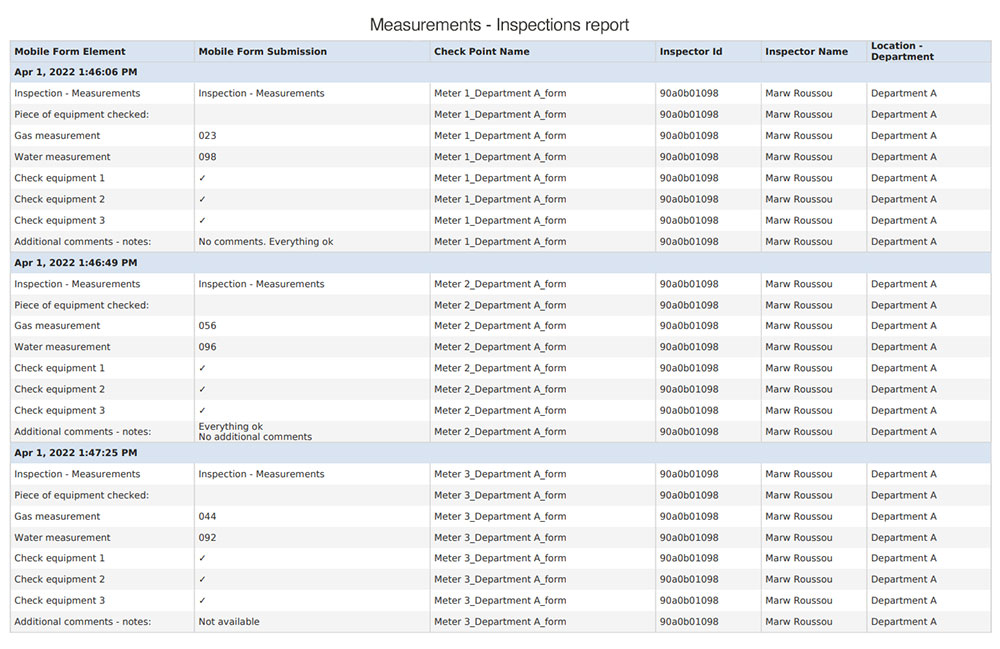 Overview
As you've already understood checking the templates above, a Mobile form custom report requires a combination of some of the software's strongest, inspections features, composing the perfect tool for advanced reporting.
The best part is the fact that the reports can be delivered automatically in PDF and Excel files. So, especially in cases where quantity measurements are being reported, the manager has the ability to configure the data included into the excel report and create graphs, summaries etc. transforming them into insights.
In that part, you may find some related links to other blog posts or guides no how to boost your creativity and start using forms. Note that, Mobile forms is a PRO plan feature.
For a discussion feel free to contact us at success@qrpatrol.com or use our live chat (during working hours from 09:00 AM to 05:00 PM Greece time).
Written by Michael Parmazis